Pregnancy is the most difficult period for women to find clothes. The weight they gain and their growing abdomen creates the problem. Women cannot wear every dress during this period and they feel ugly. We made a clothes list for pregnant ladies. You will feel comfortable and stylish with these pieces suitable for pregnancy style.
Sporty Pregnancy Style
Tights & Tunic
Comfort is very important for pregnant women. They do not prefer clothes that make walking difficult for them to make their movements easier. When you wear tights, you move very easily. Visually stylish looks. You can wear a tunic above the body. Many women don't want their belly to look big so close your belly with a tunic. I would definitely recommend the black tights. This colour suits every piece. Choose the tunics according to the season. You wear straps in summer and long sleeves in winter. Choose the colour of the tunic according to your taste.
Salopet
I go on my list for pregnancy style. This is a very common product. We often see salopet on them. Particularly these pieces suitable for the body of women with a growing belly. Take care that the salopet is large when buying it. Tight and uncomfortable models squeeze your stomach. I recommend you to buy light trousers in summer and dark trousers in winter. In rainy weather, your light-tone outfit is immediately noticeable when it gets dirty. You can choose this model when you go out to do your work.
Shorts&Blouse
Ladies, the combinations that I will recommend is preferred for the summer months. Hot weather is more difficult for pregnant women and their blood pressure may fall. So they should wear thin and cool clothes to keep their bodies cool during the summer. I recommend wide and linen fabric shorts for pregnancy style. Jeans models are thick and the women can not be comfortable with this dress. Get a blouse combed to wear above the body. You will look very stylish with this combination.
Classic Pregnancy Style
Dress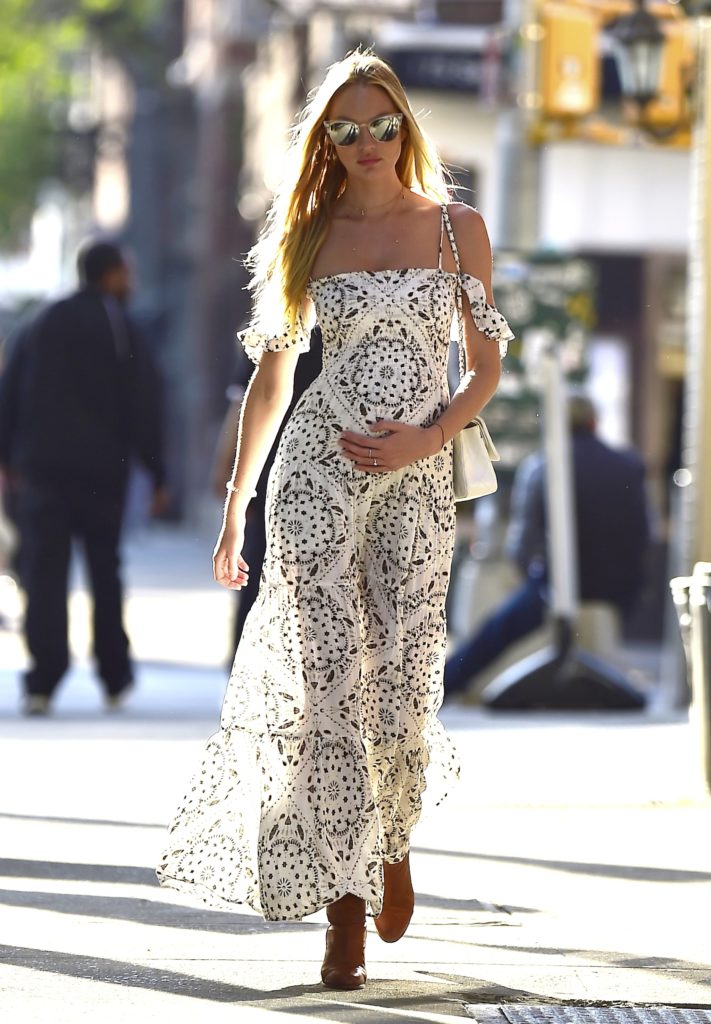 I will offer you a preferred product since the time of our mothers. Dresses were common in their time, but they look strange in style today. Because the old pregnant dresses are too large. Women used to hide their pregnancy as if it was a strange thing to give birth. They were looking very strange in large dresses. I'm going to offer you tighter dresses. It is enough for the product to fit your body so that your abdomen is comfortable.
Velvet Trousers & Pullover
Our final product is a combination of trousers and a sweater. I recommend these pieces, especially for the winter months. Pregnant women are sensitive and should wear thick clothes in cold weather. It is difficult to heal when they have the flu. You should wear sweaters instead of thin clothes for your baby's and your health. It doesn't have to be too thick if you're in hot places. I offer velvet pants for the bottom part of the body. Black velvet trousers make you cool.
Accessories For Pregnancy Style
We have listed the clothes you can wear during pregnancy. I will mention accessory suggestions a little. Wear accessories that add sparkle to you to look stylish during this period. Prefer casual silver earrings that go well with your outfit. If you are going out, wear jewelry and necklaces with colored stones. Your bags should be light and colored in summer. Prefer black and dark tone in winter. Do not carry heavy bags. Choose models that do not weigh as much as possible. Fabric bags are also suitable.
Do not wear high-heeled shoes. If you are going to wear a classic dress, go for a stylish but flat bottom style. Nutrition is also very important during this period. You should eat healthy foods and not consume foods that will put your pregnancy at risk. If you have no idea what to eat, read our content titled Foods To Avoid In Pregnancy.